Veterans' Benefits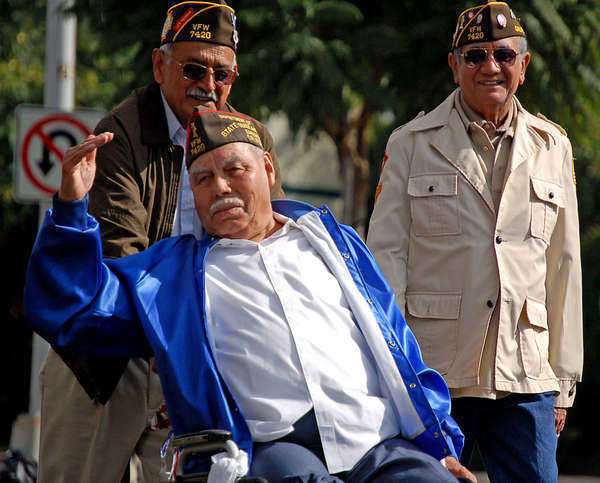 Different Veterans' Benefits Available from the Department of Veterans Affairs
United States Veterans are eligible for many different benefits and programs provided by the U.S. Department of Veterans Affairs. These veterans' benefits are authorized by the United States Code Title 38.
Many veterans' benefits require discharge from active military service, meaning full-time service as a member of the Navy, Army, Marine Corps, Air Force, or the Coast Guard. It can also include being a commissioned officer for the National Oceanic and Atmospheric Administration, Environmental Science Services Administration, or the Public Health Service.
In the case of dishonorable conditions resulting in discharge or bad conduct discharge, a veteran may not be eligible for veterans' benefits. Any veterans who are in prison or on parole must inquire about eligibility. A veteran with an outstanding felony warrant cannot receive any veterans' benefits.
Certain veterans' benefits may require service during wartime as recognized by the U.S. Department of Veterans Affairs. This includes the following war periods:
•
Gulf War from August 2, 1990 to the date set by Presidential Proclamation or law.
•
Vietnam war from August 5, 1964 (or February 28, 1961 for any veterans within the country before August 5 of the same year) to May 7, 1975.
•
Korean War from June 27, 1950 to January 31, 1955.
•
World War II from December 7 1941 to December 31, 1946.
•
World War I from April 6, 1917 to November 11, 1918.
•
Mexican Border Period from May 9, 1916 to April 5, 1917
Some of the veterans' benefits available include:
o
This is a program that allows a service member to file a disability claim for compensation up to 180 days before separation or retirement from either full time Reserve or National Guard duty or active duty.
•
Disability Compensation
o
These veterans' benefit due to disease or injuries incurred while serving on active dirty or active military service. It can also apply to certain veterans who have been disabled due to the health care provided by the Department of Veterans Affairs. All of these benefits are tax free.
o
Those who have not been discharged under dishonorable conditions and have a service related disability are eligible to receive disability compensation.
o
Disability compensation can be applied for with VA Form 21-526.
o
Veterans' pension: paid to wartime veterans ages 65 or older who do not have an income or have a limited one. They can also be paid to those under 65 who are totally and permanently disabled. It requires at least 90 days of active military service with at least 1 day during a wartime period.
o
The Spouse and Child Pension or the Death Pension is given to a surviving spouse who has not remarried, or child of a deceased wartime veteran who is unmarried.
•
Specially Adapted Housing Program
o
This veterans' benefit is a grant program that disabled service members and veterans can take advantage to in order to build or modify a home suitable for their adaptive needs.
o
Filling out a VA Form 26-4555 is necessary to apply for the grant.
•
Auto Grant with Adaptive Equipment
o
A grant available to veterans or service members to buy a new or used automobile, or other conveyance, to accommodate for certain disabilities acquired during active service.
o
Eligibility requires loss of use of one or both feet, hands, or permanent impaired vision to both eyes.
Comments
comments