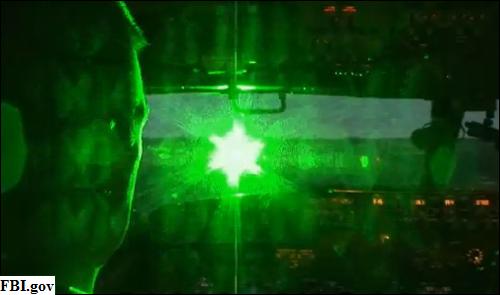 The Federal Bureau of Investigation strongly discourages anyone from pointing a laser any kind of aircraft. The act can put the aircraft in danger and classifies as a federal crime. If you think you can get away with pointing a high-power laser pointer at an aircraft, think again.
The amount of "laser attacks" has grown in the United States since 2005. The FBI expects 3,700 incidents to occur this year, while only 283 occurred in 2005. The numbers are even higher because thousands of attacks go unreported each year as well. George Johnson, a federal air marshal and liaison officer with the FBI states the numbers of attacks is at an "epidemic level."
The FBI indicates the number of laser attacks is increasing because technology has increased the capability of consumer handheld lasers in the last couple of years. The internet makes it easy and cheap to buy powerful handheld lasers.
Pointing a high-powered laser at an aircraft is extremely dangerous and puts the pilots, passengers, and people on the ground in danger. Captain Robert Hamilton of the Air Line Pilots Association was a victim of a laser attack and stated, "I had temporary blindness. My eyes were burning. It caused disorientation, and it was distracting."
In order to curve the amount of attacks, the FBI recently formed the Laser Strike Working Group National Initiative. The idea was borrowed from the FBI Sacramento Division after it significantly decreased the amount of attacks on commercial aircrafts. The number of attacks dropped 75 percent.
The FBI reports that people who point a laser pointer at an aircraft can receive penalties under two different federal statutes. The person can face 5 years in prison and a fine up to $11,000 under one statute and up to 20 years in prison and a fine up to $250,000 under another statute.
Source: Federal Bureau of Investigation
Comments
comments