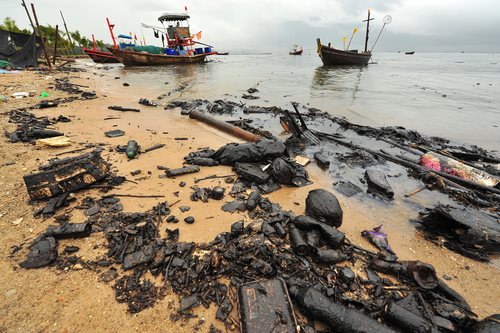 On October 2, 2012, the National Institutes of Health announced that the deadline was approaching for enrollment in a long-term study to evaluate the effects of an oil spill on a person's overall health. The study is being offered for workers and volunteers who helped during the 2010 Deepwater Horizon oil spill and cleanup.
The study is called the Gulf Long-term Follow-up Study (or GuLF STUDY). Anyone in any capacity of health or age is encouraged to sign up for the study. The deadline for signing up is the end of December, 2012.
According to Paige Rucker, the state director of Project Rebound and a GuLF STUDY partner, announced: "The oil spill raised a lot of questions for people here who helped with the cleanup, and we hope the GuLF STUDY will provide answers. A Lot of people along the coast have been affected by the spill, and the data on the GuLF STUDY will be invaluable in knowing how best to treat them."
The study is being performed by the National Institute of Environmental Health Sciences. The NIEHS wants all eligible works and volunteers to sign up, and the NIEHS is making a special request for oil rig workers and support workers that worked close to the source of the spill. The NIEHS is making the special request in order to understand how proximity and exposure affected health.
If you helped in the spill, you many have been contacted by phone, text, or mail. If you have not been contacted or have not enrolled, you are encouraged to call the GuLF STUDY at 1-855-NIH-GULF.
The GuLF STUDY will last for at least 10 years. Dale Sandler, Ph.D., the lead researcher of the study, states: "Every worker and volunteer has a story to tell, and we would like to hear every story to better understand the potential health effects of oil and dispersants."
Source: National Institutes of Health
Comments
comments