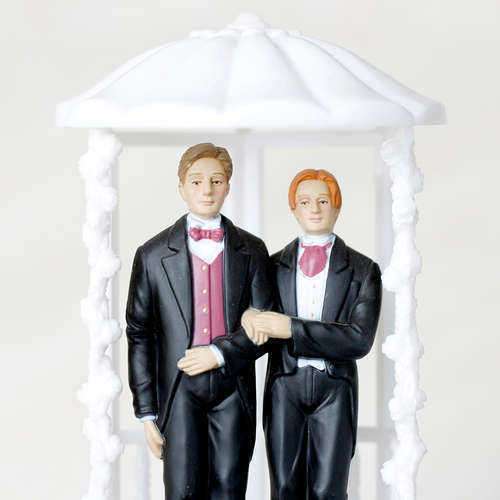 UK lawmakers are ready to vote on a bill today that would introduce same-sex marriage as law in the United Kingdom. The initiative is an issue that has prompted widespread rebellion and uproar within Prime Minister David Cameron's conservative party.
Three of the party's top members appealed to the conservative base to get behind the controversial legislation in an open letter published in the Telegraph newspaper earlier this morning. The letter, which was signed by Chancellor George Osborne, Home Secretary Theresa May and Foreign Secretary William Hague calls for the passing of the bill due to "perfect timing" and "morals."
The letter opines that the institution of marriage has evolved over time along with attitudes towards the LGBT community.
In an appeal to fellow party members, the trio also states that the opening of doors to same-sex couples will strengthen the institution of marriage. The three leading Conservative members plea that the party should not support gay marriage to spite the conservative base, but instead, to strengthen it.
Lawmakers are set to have a free vote on the initiative, meaning they are permitted to vote according to their own personal convictions, as oppose to party line. Before becoming a law, the legislation must pass through several stages, including approval in the House of Lords.
The legislation is thought to pass in the House of Commons with support of lawmakers from the Democratic and Labour parties.
As concocted, the bill would allow religious organizations to perform same-sex marriages only if they choose to do so. The bill also includes provisions intended to make sure no religious bodies or individuals are forced to perform same-sex marriages. The Church of England remains one of the staunchest opponents to the bill.
The initiative would also permit same-sex couples to convert a civil partnership to a marriage and allow married transsexual couples to secure legal recognition in their acquired gender. Laws forming and recognizing civil partnerships in Wales and England were passed in 2004.
The issue of same-sex marriage has sparked wide disagreement throughout Europe, particularly in France where the nation's lower of house parliament passed the most important article of a law to legalize the formation.
The vote by the French legal system followed public protests against the bill, which has proved divisive in the majority of the Catholic nation.
According to reports issued by the International Lesbian, Gay, Bisexual and Transgender Association, same-sex relations are still viewed as criminal activities in 76 countries, and in five of these nations, the death penalty can be applied to individuals for committing homosexual acts.
Comments
comments